What is DMAIC?
The Lean-Six-Sigma projects follow the DMAIC methodology. DMAIC is an abbreviation for DEFINE, MEASURE, ANALYSE, IMPROVE and CONTROL.
DMIAC is a data-driven improvement initiative used for improving, optimising and stabilizing business processes and products.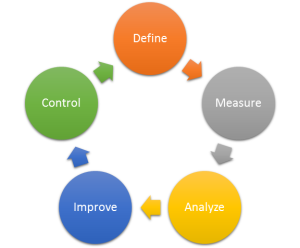 Define
Every Lean-Six-Sigma project starts with the Define phase. The purpose of the Define phase in DMAIC is to clearly define the problem statement, the goals, the scope and the high level project timeline. The problem should be linked to the external customer (VOC), the organization (VOB) and to other stakeholders.
Measure
In this phase of DMAIC, the gap between the current performance and required performance is measured. The purpose of this phase is to make customer requirements tangible and measurable.
Analyse
The purpose of the Analyse phase is to identify, validate and determine factors of influence that needs to be adjusted or eliminated.
Improve
The purpose of the improve phase is to implement and verify the best solutions to the problem.
Control
The purpose of control phase in DMAIC is to sustain the achieved results. This phase prevents the problems from re-occurring.