Scaled Agile Framework® (SAFe®) Certification Training USA
SAFe® is the world's most trusted system for Business Agility. Organizations building tomorrow's leading products need to work differently, today. SAFe helps them do that.
If you want to improve employee engagement and purpose, unlock customer value and innovation, connect strategy and execution, and scale language and practices, where do you start? SAFe is a roadmap for managing digital disruption.
SAFe certification enhances your skills to lead a Lean-Agile enterprise by leveraging the Scaled Agile Framework® (SAFe) and its underlying principles.
Call Us on +1-800-659-0762 or +91 7710033016  for Your Course Enquries
      SAFe® 6.0 Agilist Certification USA Schedule
| Certification | City | From Date | To Date | Place | No. Of Days | Time / Day | Price (Incl Taxes) | Register Now | Trainer | Offer |
| --- | --- | --- | --- | --- | --- | --- | --- | --- | --- | --- |
| Leading SAFe® | VIRTUAL [USA] | 23-Sep-2023 | 24-Sep-2023 | ZOOM CALL | 2 | 9 AM EDT - 5 PM EDT | $550 (Incl Taxes and Certification Cost) | Pay $100 to Book your Seat | Snehamayee | None |
| Leading SAFe® + CSM | VIRTUAL [USA] | SAFe 23-Sep-2023 + CSM | SAFe 24-Sep-2023+ CSM | ZOOM CALL | 2 | 9 AM EDT - 5 PM EDT | $650 ( Combined Price for SAFe + CSM ) | Pay $100 to Book your Seat | Snehamayee | Register for SAFe + CSM Live online class with combined price of $650. Select any CSM Class to Combine with SAFe classes. Enter CSM Class details at checkout Page. |
| Leading SAFe® + CSPO | VIRTUAL [USA] | SAFe 23-Sep-2023 + CSPO | SAFe 24-Sep-2023+ CSPO | ZOOM CALL | 2 | 9 AM EDT - 5 PM EDT | $650 (Combined Price for SAFe + CSPO) | Pay $100 to Book your Seat | Snehamayee | Register for SAFe + CSPO Live online class with combined price of $650. Select any CSPO Class to Combine with SAFe classes. Enter CSPO Class details at checkout Page. |
Contact Us
(Festive / Group Discounts available)
 Why Choose SAFe certification with World Of Agile?
Faculty with Real Life Experience

Access To Mock Exams for Leading SAFe®

Practical Handbook for Enterprise Agile

Interactive Training Mechanism

Pre-Class Reading Material

Lifelong Handholding
Know More about what We Offer
Why World Of Agile ? (Our Differenciators)
Check out our YouTube channel for more videos
Click here to read more Linkedin Reviews
More about Scaled Agile Freamwork :
SAFe was first developed and elaborated in Dean Leffingwell's books and blog. Dean Leffingwell is creator of SAFe® and Chief Methodologist at Scaled Agile, Inc.
Version 1.0  of SAFe was first officially released in 2011. The latest version is (SAFe) 6.0, which was released in March, 2023.
It is a set of organizations and workflow patterns intended to guide enterprises for scaling lean and agile practices. It is divided into three segments which are Team, Program and portfolio.
Frequently Asked Questions
What is Scaled Agile Framework or SAFe®?
To quote the scaled agile website (https://www.scaledagileframework.com/)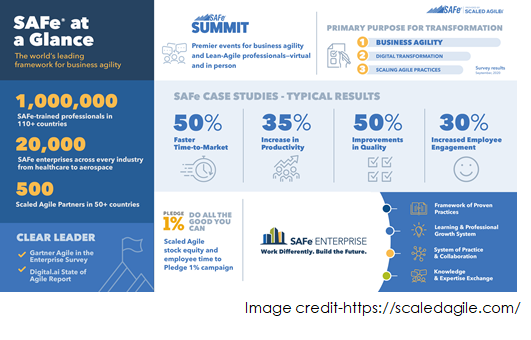 "SAFe® for Lean Enterprises is a knowledge base of proven, integrated principles, practices, and competencies for achieving business agility using Lean, Agile, and DevOps."
The Key highlights of this framework are-
Complete Operating System for Enterprise Agile – SAFe® provides an end to end picture by  integrating the advantages brought by  of Lean, Agile, and DevOps into a comprehensive operating system that helps enterprises thrive in the digital age

Four Out Of Box Configurations

– SAFe® supports the full range of development environments with four out-of-the-box configurations. This ensures that each organization can use SAFe® for their specific needs

Effective Synchronization

The SAFe® framework gives a blueprint to ensure the alignment, collaboration, and delivery of multiple agile teams, leading the way to enterprise success
Why Should I Choose Scaled Agile (SAFe® ) Certification?
As stated on the scaled agile website, SAFe® is
The Framework of Choice for Leading Organizations

– With, More than 1,000,000 practitioners and 20,000 enterprises worldwide in nearly every industry, SAFe® has a wide and growing demand across the world

Proven Results where the numbers speak for themselves

Research shows that more than 70 percent of transformations fail. Organizations choose SAFe® because it's a trusted framework with demonstrated results.

SAFe® is The Market leader –

Industry standard artifacts like Garner report and the state of Agile report have acknowledged SAFe® as a Market leader.

Community Support –

The freely available /Ready to deploy SAFe® knowledge baseof best practices guides and supports you in building business agility.

Implementation Road –

A proven implementation roadmap: your step-by-step guide to creating real change in every phase of your transformation. Hundreds of the world's leading enterprises already have traveled this path, and Scaled integrated the patterns that emerged from their adoptions into a proven roadmap. It gives you a powerful platform to customize an existing base rather than reinventing the wheel
Why do organizations need specific Focus on Scaling?
Team level Agile frameworks like Scrum works really with individual teams.

Most organizations today work with products that are delivered by multiple collaborative teams often spanning across geographies and technology landscapes.

Given the complexity of the work done, Agile is a natural way of working for these products.

To ensure success in such increasingly complex world, Agile needs to be adopted in Spirit across entire organization.

It is a daunting task to drive successful Agile Transformations across such a large scale. Research indicates more than half Agile Transformations fail

Various frameworks for Agile Scaling work to provide a ecosystem that helps organizations to work as Agile Enterprises.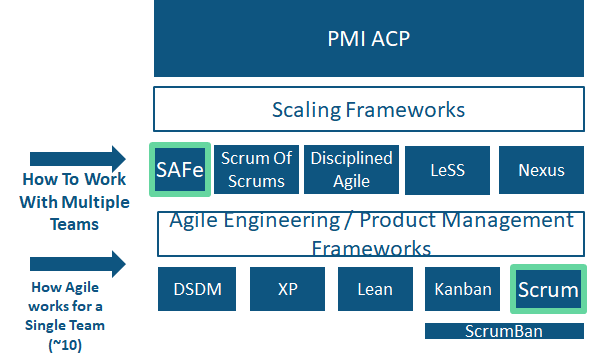 Who Should Do SAFe® Aglist Certification?
There is no formal prerequisite to attend the Leading SAFe® and getting certified as a SAFe® Agilist. However, People with some basic background and experience in Agile ways of working will benefit maximum.
The Leading SAFe® Agilist 5.1 Certification course is for anyone involved in product and solution development at Scaled Agile way of working. It is particularly beneficial for people aspiring to be or performing below roles:
Agile Coach – Agile Transformation Agents –
Executives up to management level
Project leader and program manager
Product manager and product owner
What Will The Leading SAFe® Course Cover?
A Leading SAFe® will help you to  to discover how companies can build business agility, and how to make SAFe® work inside your organization. You'll learn
How SAFe® helps you improve quality, productivity, employee engagement, and time-to-market.
Creating alignment in your entire organization around the same clear objectives,
Improving the flow of value and work from strategy to delivery. You'll learn what makes companies more customer-centric
How to run key SAFe alignment and planning events, like PI planning.
Class Agenda
Mandatory Topics
Thriving in the digital age

 

with Business Agility, Evaluate SAFe an operating system for Business Agility and explore how SAFe Seven Core Competencies achieves Business Agility
Becoming a Lean-Agile leader, Apply lean-agile mindset at Scale. Demonstrate how SAFe Principles enable business agility at scale
Establishing Team and Technical Agility, forming cross-functional Agile Teams to support Build quality in, Organizing Agile Release Trains (ARTs) around the flow of value
Building Solutions with Agile Product Delivery

 

Applying Customer Centricity with Design Thinking, Prioritizing the Program Backlog, Participating in PI Planning, Developing on Cadence; Releasing on Demand, Building a Continuous Delivery Pipeline with DevOps
Exploring Lean Portfolio Management

 

Defining the SAFe portfolio, connecting the portfolio to the Enterprise strategy, Maintaining the Portfolio Vision, Establishing portfolio flow, Funding Value Streams
 Leading the change

 

Explore how to lead by example i.e. Authenticity, Emotional intelligence, Lifelong learning, Growing others, Decentralized decision-making and Identifying actions to take for leading the change
to learn more about this course, please refer to Leading SAFe – Scaled Agile Framework Training | Scaled Agile
What Will Exam For SAFe Agilist Certification Cover?
Yes, there is an exam to get certified. It online, multiple choice exam. Students need to select either one or multiple correct options. Questions clearly state the number of options students should select for the question. Participants have to choose all correct options to get credit for a question.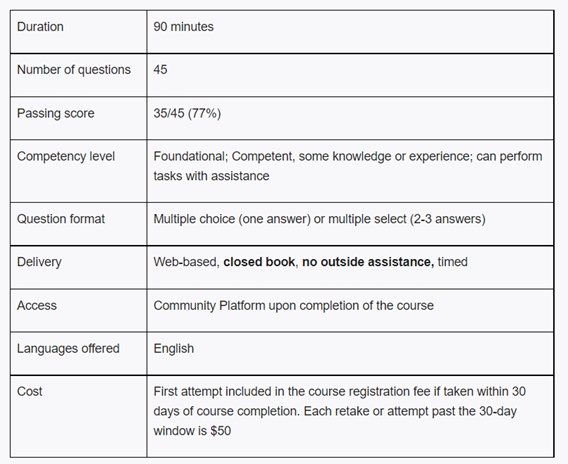 The above table is taken from the scaledAgile website. Please click here to get latest information directly from the website