Leading SAFe® Certification Information
Get Certified on Globally Recognized certification to Lead Agile transformation at the enterprise level. Conducted by SAFe® Program Consultants (SPCs) .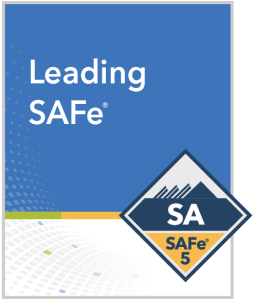 Any individual who is interested in learning about SAFe(r) regardless of experience can attend this course. But, it is highly recommended that those who intend to take the SAFe® 5 Agilist (SA) certification exam should have:
Experience in software development, testing, business analysis, product or project management
Prior working experience in Scrum
Attend an in-person or virtual course taught by a SPC
After successfully completing the course,  take the test and Pass it.
45 questions,

90 minutes (1.5 hours)

to answer the questions
There are 3 or 4 options to the question in the test. There is always only one correct answer.

Score a minimum of 35 questions right to Pass.
Leading SAFe(r) Learning Objectives
How to realize the benefits of SAFe, including:

Boosting productivity.
Improving product quality.
Decreasing time to market.
Increasing employee engagement.

How to establish Team and Technical Agility and organize around the flow of value.
How to align massive organizations around clear, common objectives.
How to participate successfully in critical SAFe events, such as PI Planning.
How to adopt a customer-centric mindset.
Scaled Agile, Inc., is the provider of SAFe®, the world's leading framework for business agility. Through learning and certification, a global partner network, and a growing community of over 1,000,000 trained professionals, Scaled Agile helps enterprises build agility into their culture so they can quickly identify and deliver customer value, capitalize on emerging opportunities, and improve business outcomes. Scaled Agile is a contributing member of the Pledge 1% corporate philanthropy and community service movement. Learn more at scaledagile.com
Contact Us
"World of Agile" is also a Scrum Alliance endorsed community of like minded people. In the last 10 years, trained more than 10K+ professionals from various verticals on certifications Like Certified Scrum Master, Certified Scrum Product Owner, Advanced Scrum Master, DevOps Master®, PMP®, PMI Agile Certified Practitioner (PMI-ACP)®
+91-8291749529 - +91-7710033016 (WhatsApp)
Unit 220, Lodha Supremus II, Rd. 22, Wagle Estate, Thane, 400604, Mumbai MMR, INDIA
M-F: 8am-5pm, S-S: Closed