Scaled Agile helps organizations to deliver large programs using Agile. This article discusses how the Scaled Agile certifications will help professionals
Why do organizations need specific focus on Scaled Agile?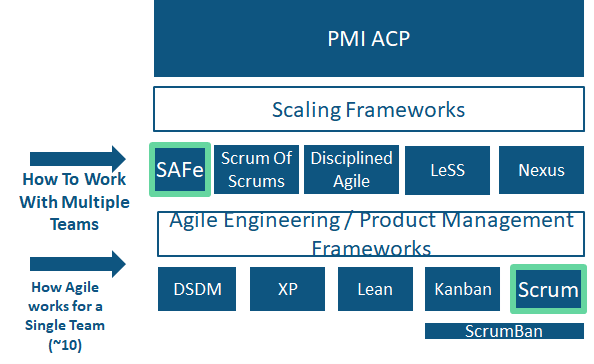 Team level Agile frameworks like Scrum works really with individual teams.
Most organizations today work with products that are delivered by multiple collaborative teams. Often, these teams span across geographies and technology landscapes.
Because the complexity of the work done, Agile is a natural way of working for these products.
To ensure success in such increasingly complex world, Agile needs to be adopted in Spirit across entire organization.
It is a daunting task to drive successful Agile Transformations across such a large scale. Research indicates more than half Agile Transformations fail
Various frameworks for Agile Scaling work help

To provide way to address complexity created by large teams, multi technology landscape and geographical distribution
To provide an ecosystem that helps organizations to work as Agile Enterprises.
What is Scaled Agile Framework or SAFe®?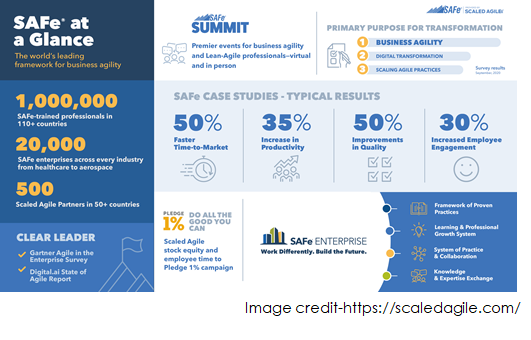 To quote the scaled agile website https://www.scaledagileframework.com/
"SAFe® for Lean Enterprises is a knowledge base of proven, integrated principles, practices, and competencies for achieving business agility using Lean, Agile, and DevOps."
The Key highlights of this framework are-
Complete Operating System for Enterprise Agile – SAFe® provides an end-to-end picture by integrating the advantages brought by of Lean, Agile, and DevOps into a comprehensive operating system that helps enterprises thrive in the digital age
Four Out Of Box Configurations – SAFe® supports the full range of development environments with four out-of-the-box configurations. This ensures that each organization can use SAFe® for their specific needs
Effective Synchronization The SAFe® framework gives a blueprint to ensure the alignment, collaboration, and delivery of multiple agile teams, leading the way to enterprise success
Why Should I Choose Scaled Agile (SAFe® ) Certification?
As stated on the scaled agile website, SAFe® is
The Framework of Choice for Leading Organizations – With, More than 1,000,000 practitioners and 20,000 enterprises worldwide in nearly every industry, SAFe® has a wide and growing demand across the world
Proven Results where the numbers speak for themselves Research shows that more than 70 percent of transformations fail. Organizations choose SAFe® because it's a trusted framework with demonstrated results.
SAFe® is The Market leader –Industry standard artifacts like Gartner report and the state of Agile report have acknowledged SAFe® as a Market leader.
Community Support –The freely available /Ready to deploy SAFe® knowledge base of best practices guides and supports you in building business agility.
Implementation Roadmap – A proven implementation roadmap: your step-by-step guide to creating real change in every phase of your transformation. Hundreds of the world's leading enterprises already have traveled this path, and Scaled integrated the patterns that emerged from their adoptions into a proven roadmap. It gives you a powerful platform to customize an existing base rather than reinventing the wheel
What Are Different Types Of SAFe® Certifications?
| | | | |
| --- | --- | --- | --- |
| SAFe Certification | What it teaches | Who should Join? | Similar Industry Certifications |
| Certified SAFe® Agilist (SA) | Understand how to achieve Agility for large teams | Experienced Scrum masters who want to continue working in large Agile programs | – |
| SAFe Advanced Scrum Master (SASM) Certification | Advanced Scrum Master techniques like coaching /facilitation etc | Experienced Scrum masters who want to improve their skills | ACSM |
| Certified SAFe® Release Train Engineer | How to be a SAFe leader for a program | Experienced SAFe agilists | |
| Certified SAFe® Product Owner/Product Manager | Product Life cycle and management | People who want to do the PO role in SAFe | CSPO |
| Certified SAFe® DevOps Practitioner (SDP) | How DevOps works in SAFe | Technical people | DevOps Master |
| Certified SAFe® Program Consultant Certified SAFe® (SPC) | How to implement SAFe at organizational level | Agile Coach for organizations implementing SAFe | |
| Certified SAFe® Government Practitioner (SGP) | How SAFe can help government initiatives | Government Employees | |
| Certified SAFe® Agile Software Engineer (ASE) | Agile Practices needed for Working in SAFe | Experienced developers who want to work in SAFe team | CSP |
| Certified Agile Project Manager | Advanced techniques for Product Owner | Experienced Product Owners | ACSPO |
| Certified Agile Practitioner (SAFe for teams) | How to work in SAFe teams | Basic Certification Any one can do – Leading SAFe covers areas beyond this | |
| Certified Lean Portfolio Manager | How to manage a portfolio with SAFe | Senior portfolio level managers – 20+ years of exp | |
| Certified SAFe Architect | How to set up Architecture for SAFe programs | Enterprise Architects | TOGAF |
Different SAFe certifications