A part of the Introduction to SAFe® series, this article will give an overview of SAFe Big Picture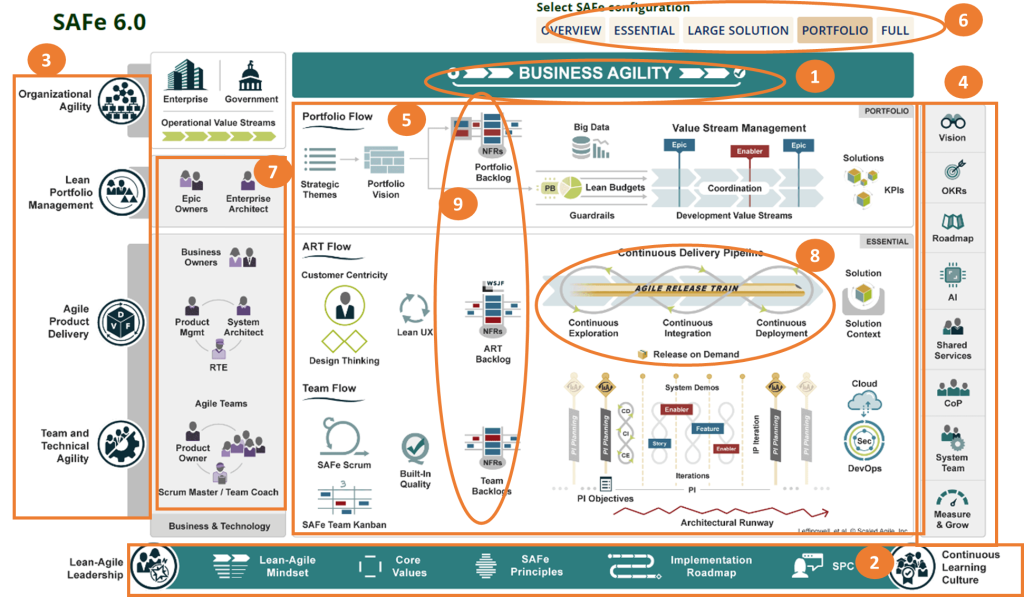 The SAFe Big Picture
The Scaled Agile Framework or SAFe® website shows the SAFe big picture. This is a visual and interactive model of the Framework. The SAFe big picture is the primary user interface to access this knowledge base. Each image is a clickable icon. Once you click on the icon it takes you can article explaining details about the same. The right bottom corner shows the version (5.1 in this case). The SAFe Big Picture can be broken down in below components
Business Agility
Foundation
Core Competencies
The Spanning Palette
The Main Section that shows SAFe Configurations
The Tabs to choose configurations
Roles in SAFe
The Agile Delivery Train
How The Requirements Scale up – The different backlogs
1- Business Agility
Business Agility is the ability to compete and thrive in the digital age by quickly responding to market changes and emerging opportunities with innovative, digitally-enabled business solution
The blue business Agility bar indicates that SAFe helps to achieve Business Agility. This Bar will be shown only for the portfolio or full configuration. This indicates that while you can use SAFe even for just a small program within your organization, Business Agility can be achieved only if we implement SAFe at portfolio level. We have marked the Business Agility section as component 1 in the diagram above.
2

–

Foundation

Situated at the bottom of the SAFe big picture, this grey box highlights the foundational elements of SAFe. Key Icons here are
Core Values

-SAFe follows four core values which are as given below – These values define the belief and value system for SAFe.

Respect for people
Relentless Improvement

Lean Agile MindSet

– The lean Agile mindset forms the philosophy behind SAFe. This philosophy provides a foundation for adopting and applying SAFe principles and practices. The Lean-Agile Mindset is the combination of beliefs, assumptions, attitudes, and actions of SAFe leaders and practitioners who embrace the concepts of the Agile Manifesto and Lean thinking.

SAFe Principles

– The practices mentioned in the scaled agile framework are based upon the 10 SAFe principles. These principles are based upon agile mindset and methods, DevOps and system thinking. In addition, they also bring in decades of practical experience of the creators.

Lean Agile Leadership

The leadership has the final and ultimate accountability to ensure Business Agility. SAFe describes a leadership style, where the leaders are tasked to be the lean thinking managers and teachers who lead from the front. To indicate this, Leadership as a core competency is shown in the foundation of the big picture

Implementation Roadmap

SAFe provides a built in implementation road map that can help the enterprise on their journey towards Business Agility

SPC

The SAFe practice consultants or the SPCs are trained change agents who leverage their experience and knowledge of SAFe to help the organizations progress towards Businesses Agility
Continuous Learning
3-The Core Competencies
SAFe 5 is built around the seven core competencies required in any lean enterprise. These competencies can be thought lens that can help to understand and implement SAFe. Each of these competencies describes the knowledge, skills and behaviors required on the journey to achieve Business Agility.
4-The Spanning Palette
The spanning palette is highlighted as "Number 4" in the diagram above. It represents various roles / artifacts that may be needed for a specific team, program, large solution, or portfolio context. The spelling palette is an essential component that drives SAFes flexibility as well as adaptability. It contains some additional guiding elements which are applicable only in certain contexts. The elements of this palette are as explained below
Vision – The vision describes a future view of the solution to be developed. While doing so it reflects customer and stakeholder needs. It also lists the Features and Capabilities proposed to satisfy the said needs.
OKRs – Objectives and Key Results (OKRs)help to define clear goals along with quantifiable outcomes.  When used within SAFe, they can help to support the Core Values of Alignment as well as transparency between the Enterprise and Portfolio strategy. These OKRs also provide guidance to Teams in Agile Release Trains to deliver on this strategy. Additionally, OKRs will also help to quantify organizational improvement activities, including the desired outcomes for the SAFe transformation.
Roadmap – The roadmap describes and shares timeline of planned deliverables and milestones for ART and value stream
Artificial Intelligence (AI) is a term used to describe a wide range of smart machines capable of performing tasks that typically required human intelligence. AI can be applied at all levels of SAFe to build intelligent customer solutions, automate value stream activities, and improve customer insights. It is a technology that can revolutionize solutions developed by SAFe organizations and has the potential to dramatically influence the operational and business models of enterprises as well.
Shared Services – Describes the niche or special roles required for an ART or Solution Train's success. These are the roles that cannot be dedicated full time to any specific train.
Community of Practice (CoP) – A community of practice is an informal group of people, (team members and/or other experts) acting within the context of a program or enterprise. A CoP is dedicated to sharing practical knowledge relevant domains(s).
 System Team – The system team is a special Agile Team which helps in building or leveraging the continuous delivery pipeline. Where necessary, System team also helps to validate the full end-to-end system performance.
Measure and Grow The section also shows "Measure and Grow" at the very bottom. Measure and Grow is the built-in Mechanism in SAFe to measure the progress towards Agility and plan for next steps.
5-The Main Body Of the SAFe Big Picture / 6 The Selection Tabs
The main area of SAFe Big Picture describes how SAFe works at various levels or configurations. SAFe can be used right from a smallish program containing 50-125 people to an entire Organization having various size programs and large initiatives with thousands of people. You can imagine that this section shows four layers of Scaling – Team, Program, Solution and Portfolio.
To ensure ease of use across this vast range, have defined four SAFe configurations. Essential /Large Solution /Portfolio and Full. Please review the Tabs on top right (section 6) to read about Specific configurations. The Overview tab gives information about core competencies
The section describes how the Agile Release train works (marked as section 8) . It also describes also how to scale up the business requirements by scaling up the backlog (marked as section 9).
The four configurations and how they use the layers is briefly explain in this article.
7-Roles in SAFe
SAFe uses Scrum and Kanban at individual team levels. It leverages the 3 team level roles. As the teams scale up SAFe introduces additional roles that manage complexity and establish Agile at Enterprise level. Please look for section 7 to identify these Roles
8- Agile Release Train
The Agile Release Train (ART) is of Agile teams. This is a long-lived team. The ART, along with other stakeholders, incrementally develops, delivers, and where applicable operates, one or more solutions. The ART is arranged around in a value stream.
9- Scaling The Backlogs
In a single team way of working, Product Backlog captures everything to do. The Product Goal helps the team to align. When we are working with multiple teams across many Value chains , then we need to Scale the product backlog up – SAFe handles this by having a Team Backlog / Program Backlog / Solution Backlog and a Portfolio Backlog. Pls look for section 9 in above diagram