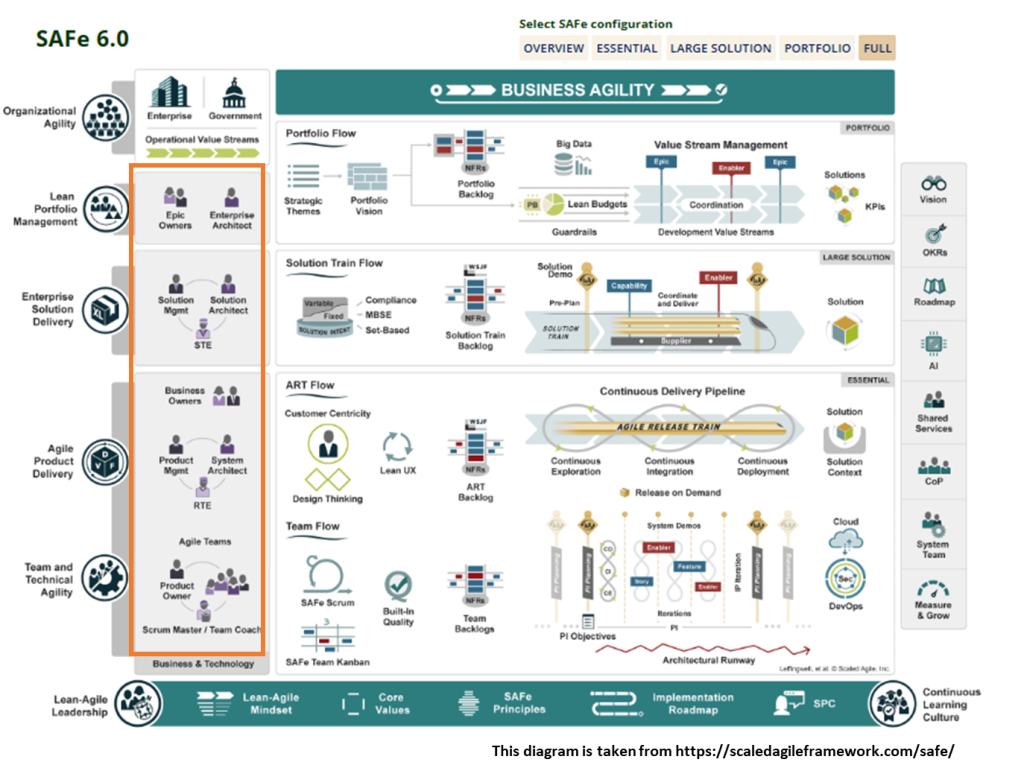 As part of the Introduction to Scaled Agile Framework series, this article will explain different Roles in SAFe
Roles in Scaled Agile Framework Scale up from the team level roles usually Associated with Scrum. Please refer to the Red box in the above diagram. This Red box highlights the placement of Roles in the SAFe big Picture.
Key SAFe roles at Team Level
The key roles at Team are:
Agile Team members -Do the day to day work. Team as a whole is responsible for delivery and quality of the work undertaken.
Scrum Master/Team Coach – This person is the servant leader, coaches of the Agile Team. They also help remove impediments and foster an environment for high­ performing team dynamics, continuous flow, and relentless improvement.
Product Owner – Product Owners are accountable for User story Prioritization. They help everyone understand the well described stories
Key roles at Program Level
The key at program level are:
Product Manager – Product Managers prioritize well described features. They help everyone to understand them
Release Train Engineer – responsible for ensuring the agile release train (the team of agile teams) work well together and follow the processes.
Customer – consumes the output from the agile release train. Could be external customers or people within the organisation. The customers are the people who will have the final view on whether the output was valuable.
Business Owner – key stakeholders who are ultimately responsible for the business outcome.
System Architect/Engineer – responsible for designing and sharing the architectural vision across the agile release train, which means the work delivered will be fit for purpose.
Key roles at Solution Level
The key SAFe roles the solution level are:
Solution Manager – Solution Management is responsible for defining and supporting the building of desirable, feasible, viable, and sustainable large-scale business solutions that meet customer needs. They work with the Solution Backlog and are accountable for responsible for prioritising capabilities and ensuring they are well defined and understood.
Solution Architect/Engineer – responsible for designing and sharing the architectural vision across multiple agile release trains, which means the solutions delivered will be fit for purpose.
Solution Train Engineer – responsible for facilitating and guiding the work done by all of the agile release trains delivering the solution.
Key roles at Portfolio level
The key at portfolio level are:
Epic Owners – responsible for defining an epic, articulating its benefits and facilitating its implementation.
Enterprise Architect – drives architectural initiatives for the portfolio.
Other key SAFe roles include:
SAFe Programme Consultant (SPC) – use their technical knowledge of SAFe to advance the organisation's systems, and processes for developing systems. They are key to successfully implementing SAFe and often come from an internal centre of excellence or from an external consultancy. Agility in Mind has qualified SPCs as members of its consulting team.