As a part of the Introduction to SAFe® series, we will explore, "How SAFe® helps with Business Agility" – in this Article.
We Are in The Software and Digital Age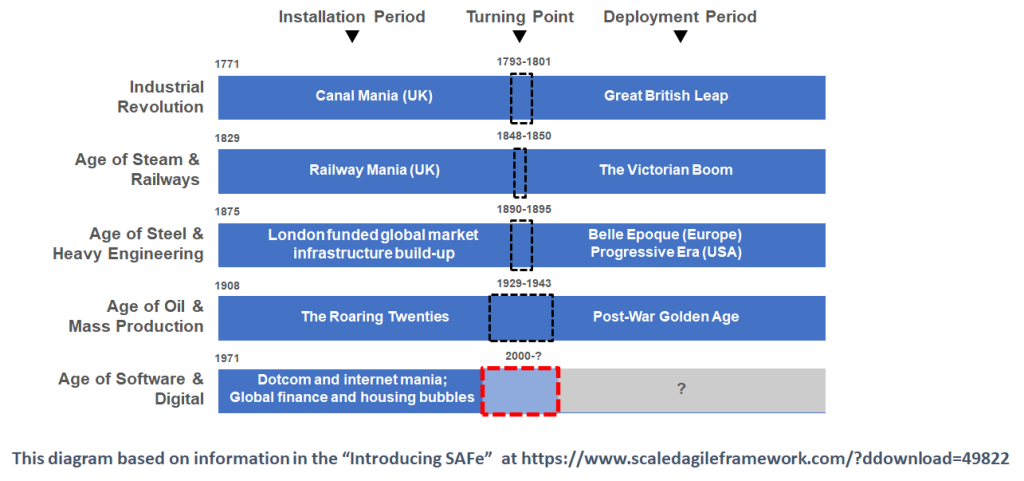 It is said that major technology revolutions that disrupt the common person's life happen once in a generation – The last five revolutions are shown in the diagram above. Right now we are in Age of Software and Digital. Software and technology are impacting business in all industry areas.
Everything moves fast in the software / digital age. The market conditions demand that the business is able to pivot the direction quickly with any mercy or guilt. At the same time, business have to balance this Speed of innovation with the stability and efficiency to stay competitive
What is Business Agility
Major technology advances like AI, DevOps and Cloud are unlocking new ways to enhance value at a furious pace. Because of these technology advances, enterprises in traditional industries are fast becoming software focused enterprises. Regardless of domain or the scale of your enterprise, almost all capital investments have a technology component
To thrive in this environment, the companies need to adapt their traditional way of working, Dean leffingwell, creator of the Scaled Agile Framework says
"Every business is a software business now. Achieving a state of Business Agility means that the entire organization—not just development—is engaged in continually and proactively delivering innovative business solutions faster than the competition"
Business Agility can be defined as the ability to compete and thrive in the digital age by quickly responding to market changes and emerging opportunities with innovative, digitally-enabled business solutions. It requires
Technical agility
A business-level commitment to product and Value Stream thinking.
everyone involved in delivering business solutions uses Lean and Agile practices.
How SAFe® helps with Business Agility
The Scaled Agile Framework leverages Agile philosophy, values and Principles. Along with Agile, the framework relies upon the systems thinking and Lean product development. This enables the businesses to develop and deliver best in -class solutions built upon latest technology and maintain the quality and quick turn around time.
SAFe® 5 for Lean Enterprises is a knowledge base of proven, integrated principles, practices, and competencies for achieving Business Agility by implementing Lean, Agile, and DevOps at scale
This framework is freely available online at their website https://www.scaledagileframework.com/