As part of the Introduction to Scaled Agile Framework series, this article will explain how SAFe works as a dual operating system. This system provides a balance between the Speed of Innovation and Stability/Efficiency. You can find more details on how to achieve the balance are explain in this advanced article at ScaledAgileFramework website
It all Started With Entrepreneurial Network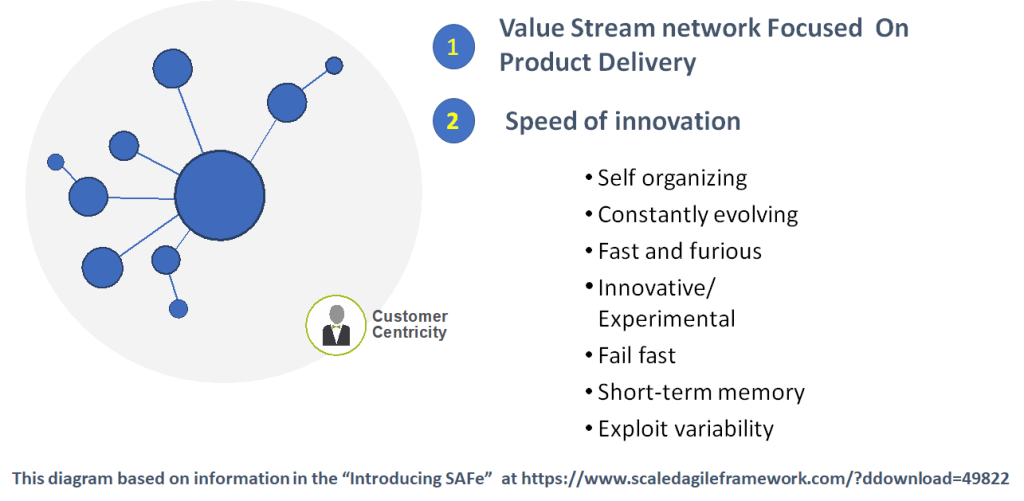 Enterprises usually start off with an innovative idea and few people focusing their target customer and their idea. During the early days enterprises usually operate as a fast, adaptive network of individuals. These individuals are aligned to a common vision catering to the end customer benefits. This focus achieves a lot of flexibility and lot less rigid structure. In other words, it's an adaptive 'entrepreneurial network' of individuals aligned to a common vision.
Such a network follows a Product Approach rather than a project Approach and the speed of innovation is very high
But Then Then the Network Grew in Hierarchy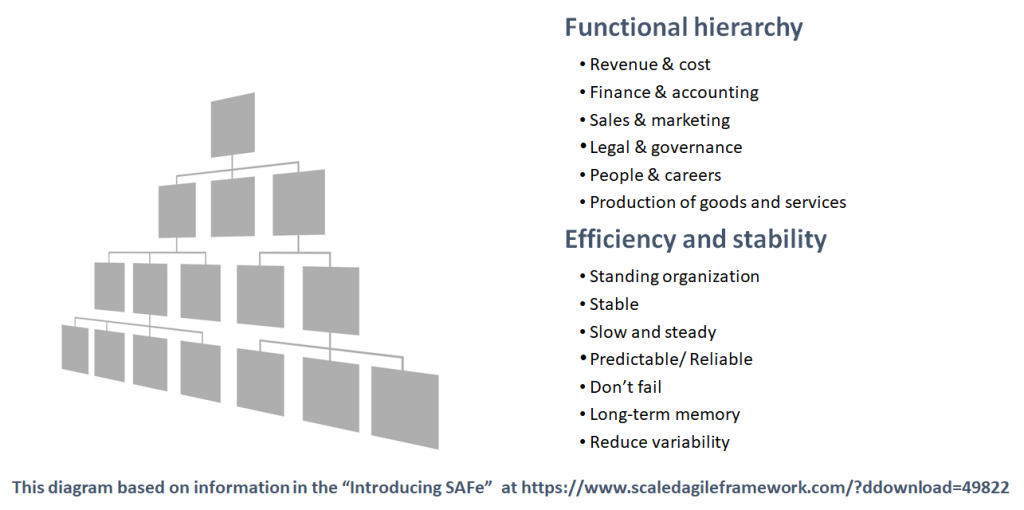 As the enterprise becomes successful, the focus changes to capitalize on the success and to grow- as rapidly as possible. This means that rather than being flexible, individuals begin to develop expertise in specific areas. As the number of people grows, there is often a consolidation Phase. Which means now the lean network of individuals starts to become an organization. There are now various departments and policies, and processes are defined. The focus now moves to smooth, predictable, repeatable operations that can help to fuel the growth further. By the very definition hierarchy focusses on efficiency and Stability – this directly contradicts with the earlier "entrepreneurial network" where "Speed Of Innovation" was the driving force. Customer centricity often loses out as hierarchy grows.
SAFe As An Dual Operating System
The hierarchy does provide compelling benefits. Which means, it is not a good idea to simply trash the hierarchy and go back to the entrepreneurial network. Instead, we have to try and create a balance. SAFe as a dual operating system provides a way to create the balance between network and hierarchy.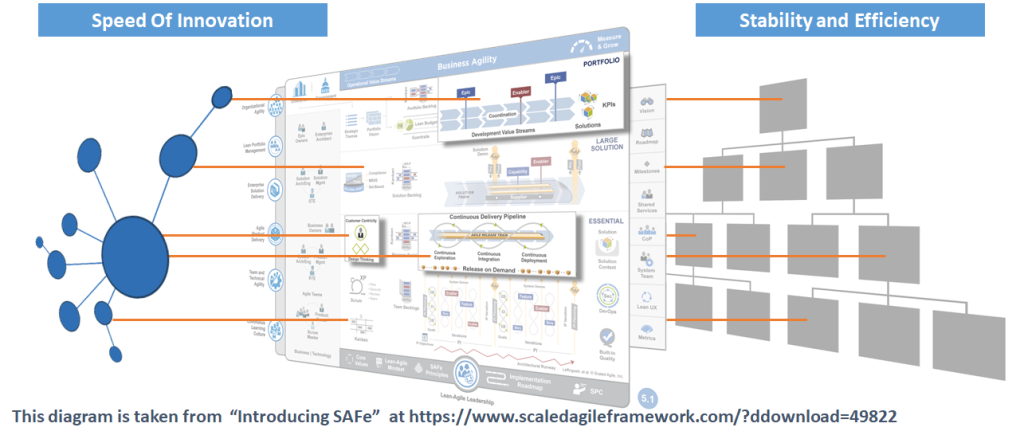 SAFe focusses the organization around Value Streams instead of functional matrix structure. This enables the speed of innovation like the 'entrepreneurial network'. SAFe leverages time tested Lean, Agile, and SAFe practices. These practices help the organization to quickly adapt without completely disrupting the existing hierarchy. This balance helps with Business Agility. Achieving Business Agility is indeed the true goal of SAFe