Certified Scrum Master (CSM) Training in USA
CSM (Certified Scrum Master) Certification Training introduces you to Agile – Scrum framework, Scrum roles and a detailed overview of Scrum Master role. A Scrum Master creates high performing teams. This certification is recommended if you are pursuing a Scrum Master or an Agile Coach career or plan to work on Projects executed with Scrum.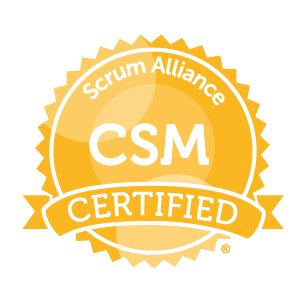 Call Us on +1-800-659-0762 for Your Course Enquries
Scrum Alliance is the oldest and the most credible Scrum certification body in the world. Scrum Alliance certifications are the most popular certifications in the whole world and have become hygiene with most organizations.
CSM Certification and CSPO certifications have become basic certifications looked for by the recruiters.
ELIGIBILITY FOR CSM Certification
Attend an in-person or virtual course taught by a Certified Scrum Trainer® (CST®)
After successfully completing the course, you will need to take the 50 question CSM test and answer 37 out of the 50 questions correctly within the 60 minute time limit
After you pass the CSM test, you will be asked to accept the CSM License Agreement and complete your

 

Scrum Alliance

 

membership profile
ABOUT CSM Certification TEST
50 questions, 1 hour to answer the questions
Two attempts to pass the examination
There are 3 or 4 options to the question in the test. There is always only one correct answer.
Virtual Class room Training with certified Trainer Mr Amit Kulkarni

Weekday – 3 days (3 days * 5 hours )  OR 
Weekend – 2 days (2 days * 8 hours )

CSM Certification Exam with

 

Two attempts
Online preparatory video by Amit on Scrum
16 PDU's / SEU's
Two year membership with

 

Scrum Alliance
Virtual Classroom Training on

 

DevOps Fundamentals 

 covering various Automation tools for you to start using Scrum and start learning

 

DevOps tools

 

to be used during the Sprint Work
E-Book on

 

Lean Six Sigma

 

/

 

Scrum

 

Agile, Complied by our Expert Faculties.
Online self learning Agile course

 

which includes topics "Beyond Scrum" such as tools, techniques.
Lifetime faculty support

 

for your questions and queries  from our Thane (Mumbai) office or on phone or email.
Participant kit authored by Mr. Amit Kulkarni.
Roles That Would Benefit From The Class
Agile Coach
Release Managers
New Scrum Team Members
Portfolio Manager
Business Analyst
Technical Architect
Testers
Departmental Leads
Product Management Leads
Project Managers
Product Managers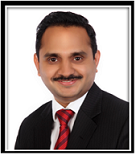 Amit Kulkarni has 25+ years of experience in Banking, Insurance, Supply Chain, Credit Cards and Stock Market area. He has lead large teams in Europe, USA, India and China. As a trainer, Amit has conducted more than 200 workshops on CSM, CSPO , A-CSM and various other topics such as DevOps, Prince2, PMP etc. Amit's Certification Training focuses on learning rather than just a certification. Amit conducts various exercises, conducts games and makes the class very interesting. Amit's workshops are some of the most engaging workshops in the world.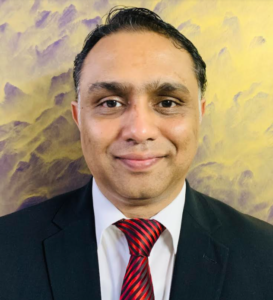 Gaurav Rastogi is an experienced IT professional for 20+ years helping enterprise teams transform into Agile mind-set, create innovative culture and feel empowered. He holds specialisation in Agile,Scrum implementation training. For past 10 years, he has facilitated several Agile workshops, innovation games and has trained 1000's of professionals in these areas. In his coaching assignments & workshops, he has engaged with global banks, asset management companies, technology firms, telecom giants and several start-ups across the globe
CSM Certification Schedule
Our Schedule for Batches in USA Timezone.
CSPO Schedule
Our Schedule for Batches in USA Timezone.
Call Us (Festive / Group Discount)
+1-800-659-0762
Leave Your Course Enquiry Here
Why World Of Agile (Our Differenciators)
Best Value, Best Price
We are not a marketing company. We are owned by our own trainer and CST, Amit Kulkarni. Therefore there are no marketing company commissions. Best price and Best Value is guaranteed. Our Certified Scrum Master Training and Certified Scrum Product Owner courses are best valued.
Post Training Support
Amit Kulkarni provides lifetime support to all the students enrolled through World of Agile for Certified Scrum Master or Certified Scrum Product Owner course. That means career guidance, difficulty solving and connecting with Amit after the Scrum Training is FREE.
Free Courses and content
300 page agile book written by Amit to help participant learn beyond the certified Agile Scrum Master or Certified Scrum Master curriculum
E-Learning course on PMI-ACP

Three Mock Exams on PMI-ACP

Three Mock Exams on PSM

Three-Hour DevOps introduction

virtual session
Look at our Scrum Master Certification Online Virtual and Classroom Session Video's
Amit is an incredibly knowledgeable Agile and Scrum instructor. I attended his Certified Scrum Product Owner (CSPO) course back in June. Amit is passionate and super clear in describing an ideal Agile environment. Anyone who takes this course will walk away feeling like an expert. His teaching style keeps the class interesting and interactive at all times. He even dedicated a very short amount of time to review Scrum principles to ensure we were all on the same page and we were all very grateful for that! Although I had already completed a Certified Scrum Master (CSM) course with a different instructor previously, Amit had clarified so many things that had not yet registered in my head. If you're looking for advanced level training with a high quality and experienced instructor, Amit is the guy to go to without a doubt! I have recommended several friends to take his course because I believe he's the best person to learn from. I was super impressed and everyone I spoke to shared that they had a great experience in his course! Thank you again, Amit! I'm so glad I found you when I did!
Having spent a long time in design and development, but also a long time in training, coaching and competence development, I must say how impressed I was by Amit's skill as a trainer during the recent Certified Scrum Master course. The knowledge, philosophy and vision that Amit radiates goes far beyond the fundamental scope of equipping students to pass the certification criteria and test. The approach used by Amit "walks the talk" of Scrum – we "lived" sprints each day of the training and therefore learnt by doing. Another noteworthy technique embodied the simplicity so dear to Scrum: Amit spent three days simply drawing images, diagrams and illustrations whilst telling stories and using metaphors to explain concepts. Zero PowerPoint. A fully documented "slide deck" was also made available as background data as well as a multitude of short videos and other data on the World of Agile website. All this learning was dispensed remotely to a cohort of students tuning-in from from Asia, North America, Europe and Australia. Amit also handles this mode of teaching with ease. Thanks Amit – looking forward to the next course with you!
I thought my CSM was going to be just "tick in the box", only focusing on the exam and certification. And I was sceptical about having a training via zoom (Covid-19) including the timezone difference. But to my surprise this turned out to be one of my best trainings ever. Amit has an astonishing CV and his experience and teaching skills forced me to finally understand scrum and agile basics. His examples were spot on. I cannot wait for my next course with Amit.
     FAQ's on CSM Certification
| Question | Answer |
| --- | --- |
| What is Scrum Alliance? | Scrum Alliance was founded in 2001. Scrum Alliance is the largest, most established and influential professional membership and certification organization in the Agile community. Scrum Alliance has certified more than 750,000 practitioners worldwide. Scrum Alliance vision is to "Transform the World of Work" with a mission to guide and inspire individuals, leaders, and organizations with practices, principles, and values that create workplaces that are joyful, prosperous, and sustainable. |
| Why is Scrum Alliance CSM Certification the most valuable certificate in the world ? | Answer: Scrum Alliance Certificates are given by Certified Scrum Trainers (CSTs). CSTs are highly qualified and some of the best trainers in the world. There are only 220 odd CSTs in the world and only 12 CSTs in India. The reason there are so less CSTs is because, CST is highly qualified individual and you need to be best-of-the-best in the world to become a CST. CSTs have good industry experience and are certified to be trainers after a lot of scrutiny. The Training given by a CST is authentic. Organizations recognize the importance of EXPERTISE. Most organizations know that getting trained from a Certified Scrum Trainer (CST) ensures that the one who is trained has authentic knowledge about the subject. |
| Is CSM applicable to the non-IT industry? | Scrum is the most famous Agile framework. Scrum has already been used in Automobiles, Research, Education, Pharma, Manufacturing, Banking, etc. It is a way of doing or executing things. CSM can be used by non-IT industries as well. |
| Who can attend Certified Scrum Master Training? | Everyone who is interested in working with a Scrum team and wants to know about Scrum, Certified Scrum Master Training is ideal for: Product Managers Developers Programmers Project Managers Managers Executives Business Analyst Product Owners Architects Software Developers Software Testers Team Leads |
| What is the Examination Format? | The Exam consists of 50 questions. The only question type is a multiple choice type questions. i.e. there are 3 or 4 options and only one correct answer. There is NO NEGATIVE MARKING for the exam. You have to score 75% i.e. 37 or more correct questions to pass |
| What is the guarantee that I will pass the examination? And what will happen if I fail? | Our Trainer has trained more than 5000 Students still date. And all have cleared their certification successfully. Also, you are eligible for TWO ATTEMPTS in the certification fees that you have paid. So if you fail, you will be given another chance to appear for the examination. However, before making a second attempt, our faculty will like to talk to you on your understanding of Scrum |
| I know Scrum. So if I don't want to attend the CSM training is it okay? | NO. Attending the Scrum training by a CST is mandatory. The purpose of training is to understand the depths of Scrum and Agile. You may have done Agile in your company, however, learning on the job always involves modifying as per your wish and will and essentially you end up doing the same old things – just renamed as Scrum. It is better that you understand Scrum in a classroom setting so that you get depth on the subject. |
| Is CSM Certification enough for me? | The Certified Scrum Master Training is to get you acquainted with Scrum. Your job is to get in-depth and prepare on this subject. We will help you with a learning path in terms of recommendations on reading. |
| Does CSM/CSPO/A-CSM Certification have an expiry date? | Yes. CSM/CSPO and A-CSM Certifications has an expiry of 2 years from the date of certification. |
| How do I renew my CSM/CSPO/A-CSM Certification? | You can renew the Certified Scrum Master certification two ways: You can do any other Scrum Alliance certification and your CSM certification will renew automatically for another 2 years from the date you complete another certification of Scrum Alliance You can report 30 SEU or Continuous Education Credits (Scrum Education Units) and pay a renewal fees of USD 100. Some of the ways to gain the continuing education credits There are literally hundreds of ways to gain continuing education credits(SEUs,PDUs, etc.)for free:Read books, blogs and articles about any agile practice, principle, or framework. Contribute to a local agile or Scrum User Group. Participate in agile lunch-and-learns at your place of business. Come to live webinar events or watch pre-recorded webinars. Demonstrate learning in some other, creative way. Watch our free Scrum Foundations e-learning videos. Enroll and participate in the free, online Path to Coaching program. Attend an agile or Scrum event. |
| Why there is a renewal fee for Scrum Alliance CSM/CSPO/A-CSM Certification? | CSM is the most valuable certificate in the world. Most employers recognize the certificate – not just because of the certificate, but also because of the value Scrum Alliance generates by the community creation. Scrum Alliance community consists of Authors, Writers, Thinkers and really the who's-who in the Agile world. This community is created by investing in Scrum Gatherings which gives opportunity for the Scrum Alliance Certified delegates to come together and build knowledge about Agile and Scrum. As a non-profit organization, Scrum Alliance reinvests these $100 fees in face-to-face engagement and increased understanding around the world via regional gatherings, user groups, research grants, scholarships, and more. Thus giving back to the community in a big way. Most of the competitor organizations are profit-making organizations. Therefore they do not invest in any community activities. Competitor organizations have nothing to offer to the community other than giving free-bees such as free certifications or free renewals. Either ways, the competitor organizations are not popular certifications and employers do not value these certificates. The question to be asked is, why in the first place would you even make the initial investment, if the world does not recognize the certificate. |
| What are A-CSM Certification® benefits? | The 2 days of extensive classroom deep dives in Agile Coaching & Facilitation. Also focuses on how the Scrum Master uses their skills to support Product Owner, team & in turn whole Organization. A-CSM is also the next steps to become a Certified Scrum Professional (CSP) which is the mandatory step to achieving the Guide level / Coaching level certifications from Scrum Alliance |