ITIL stands for Information Technology Infrastructure Library (ITIL). It is is the world's most widely used IT Service Management framework.
ITIL has been owned by AXELOS, a joint venture between HM Cabinet Office and Capita Plc.
The newest version of ITIL is ITIL4.
ITIL4 introduces you to basic understanding of the ITIL framework and how it may be used to enhance the quality of IT service management within an organization.

Brief History of ITIL
The first version of ITIL :
ITIL® was developed at the end of the 1980's by the Central Computing and Telecommunications Agency (CCTA), a government agency in Great Britain to develop recommendations for the effective and efficient provision of IT services. This first draft was based on the plan-do-check-act (PDCA) cycle. and resulted in a catalogue of best practices for IT organizations, which today is known as "ITIL".
ITIL V2:
ITIL V2 guidance was released in 2000 which tried to organize the IT processes in Service support and service delivery.
ITIL V3:
ITIL V3 was released a few years later in 2007.
ITIL V3 is organized around a set of five core publications which together where known as the ITIL service lifecycle :
Service Strategy
Service Design
Service Transition
Service Operation
Continual Service Improvement
In 2011, the next official update to ITIL v3 was released.
ITIL 4
In 2013 AXELOS was formed – A joint venture between the UK Government and Capita, a consulting firm
In February 2019, Axelos released ITIL 4, with a new focus on Agile and modern service delivery.
What's new in ITIL 4?
ITIL 4 provides the guidance for new service management challenges. Also guides how to utilize the potential of modern technology in an era of cloud, Agile, DevOps, and transformation.
The key component covered as part of the ITIL 4 framework is the ITIL service value system (SVS) 
The ITIL Service Value System
The core components of the ITIL SVS are:
The ITIL service value chain
The ITIL practices
Governance
Continual improvement
ITIL4 Certification Scheme:
 There are five levels within the ITIL 4 certification scheme:
ITIL Foundation
ITIL Specialist
ITIL Strategist
ITIL Leader
ITIL Master
Above 5 levels have seven core modules within the ITIL 4 syllabus:
ITIL 4 Foundation
ITIL 4 Specialist: Create, Deliver and Support (CDS)
ITIL 4 Specialist: Drive Stakeholder Value (DSV)
ITIL 4 Specialist: High-velocity IT (HVIT)
ITIL 4 Strategist: Direct, Plan and Improve (DPI)
ITIL 4 Leader: Digital and IT Strategy
ITIL 4 Master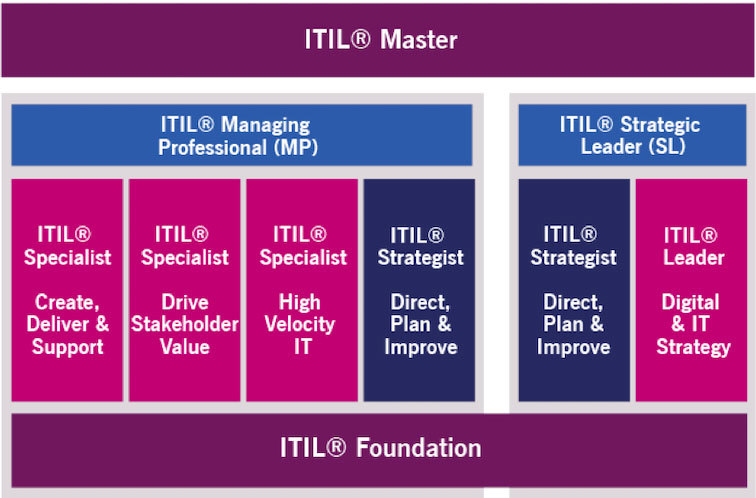 The ITIL4 Foundation module is the entry level qualification for professionals who want to start out on their journey into Service Mangement.
How to achieve ITIL4 Foundation Certificate
To achieve ITIL Foundation Certification Exam:
1. Complete the ITIL V4 Certification Training
2. Pass ITIL4 Foundation Certification exam with at least 65% (26 correct answers out of 40 questions) in 60 minutes
Please refer to the following links to know more about ITIL