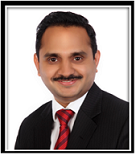 Amit Kulkarni
Experience :
22+ years. 19 years in TATA Consultancy Services.
Large customer experience – ABN AMRO Bank, Motorola, AMEX, Dresdner Klienwort Benson, Nationwide Insurance.
Multi-Country Experience : US (7 years), UK (2 years), Netherlands (7 years)
Multi Role Experience : Portfolio Manager for $100M+ portfolio, Chief Scrum Master, Product Owner, Program Manager, Technical Architect and Developer
Qualification :
Bachelor Of Engineering (1995) – Computer Engineering from V.J.T.I. Mumbai, First Class with Honours
Certifications : CST, CSP, CSM, CSPO, PMI-ACP, Lean Six Sigma, SAFe Agilist, PMP, Prince2 Practitioner and Accredited Trainer
Biography
Amit is a Agile Trainer and Agile thought leader with extensive experience in training, coaching and implementing Agile frameworks such as Scrum, Lean and DSDM for large organizations. He has trained numerous teams, arming them with the skills needed to apply classroom theory to operational success at the team and project level.
Amit has more than 20 years of experience in managing large programs and portfolios involving a variety of methodologies including Scrum, DSDM integrated with a Prince2 framework.
Amit has helped large companies such as ABN AMRO, Motorola, Tata Consultancy Services adopt and improve their use of agile processes and techniques in order to build extremely high performance development organizations.
Amit was part of the Lean Movement in Motorola during 2005-2007 and since them has been part of Lean, Kanban and Scrum implementations till date.
Amit now is a Director for Effective PMC Pvt Ltd (www.effectivepmc.com) which is a Coaching and Education organization based in Mumbai. Amit Coaches on various methodologies such as PMI-ACP, Scrum in a non-certified context, Prince2 and PMP. Amit also provides consulting on Agile, Lean, Six Sigma to his customers.
Prior to 2005, Amit has served various large customers such as American Express, Dresdner Klienwort Benson Bank, National Stock Exchange of India, Ernst and Young and Nationwide Insurance. He has worked as a Technology Specialist for various Stock Market Systems and Banking System Products including Trading Systems, Broker Dealer Systems and Back office systems for TATA Consultancy Services.