In this article we will talk about Different Agile Scaling Frameworks
15th state of agile report states , "Over the last several years, there has been increasing awareness of both the opportunities and challenges offered by scaling Agile practices across the organization"
The diagram describes industry usage of various models to help Scale Agility across your organization.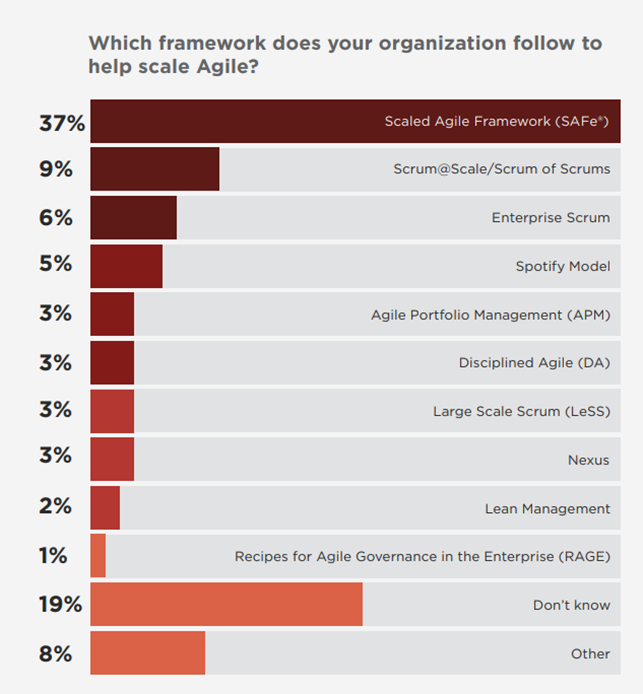 Which framework does your organization follow to Scale Agile Way Of Working? 15th State of Agile Report
While a wide range of scaling frameworks are in use, the Scaled Agile Framework (SAFe®) continues to be the most popular. Nearly 37% of respondents identify it as the framework they most closely follow. SAFe® significantly outdistances the next nearest scaling method, Scrum@ Scale/Scrum of Scrums (9%)
Overview Of Different Agile Scaling Frameworks
In this series of articles, I will discuss various major scaling frameworks. Along with that, I will also share my experience how to choose the most suitable framework for your organization.
Scaled Agile Framework – SAFe -Scaled Agile Framework (SAFe® )combines Lean, Agile, and DevOps practices for business agility.
LeSS – LeSS Works – The framework is described as a scale up version of one team scrum. As a result, it maintains quite a few of the practices and ideas of a single team
Nexus -Defined by Scrum.org, Nexus is a framework that drives to the heart of scaling by minimizing cross-team dependencies and integration issues.
Scrum @ Scale -As stated in the Scrum@Scale  guide, "Scrum@Scale helps an organization to focus multiple networks of Scrum Teams on prioritized goals. It aims to achieve this by setting up a structure which naturally extends the way a single Scrum Team functions across a network and whose managerial function exists within a minimum viable bureaucracy (MVB)."
Disciplined Agile -Disciplined Agile helps you Choose Your WoW (your Way of Working). It allows you to customize your WoW for the unique situation you find yourself in. The DA tool kit shows you how to effectively combine strategies from Scrum, Agile Modeling, Extreme Programming, Kanban, Agile Data, SAFe®, and many other approaches in a tailorable and scalable manner. The end result is true business agility.
Crystal Methods – Crystal method is a family of methods, developed by Alistair Cockburn. These methods mainly focus on people and their interaction.
Spotify -Spotify is a Swedish streaming service formed in 2008. It started as a Scrum organization that thrived on the Scrum principles and values. People started rasing concerns about the rigidity and the scalability of Scrum practices as the organization matured. As a result, the organization evolved a highly-scaled light-weight framework was created called Spotify Agile.
How To Choose a Suitable Agile Framework
Which one will be the best for your project? It depends.. When choosing a method of working in your own organization, one should be guided primarily by the characteristics of the company, its purpose and plans for the future. When deciding on a given agile methodology for your organization you need to consider multiple criterion and your unique situation.